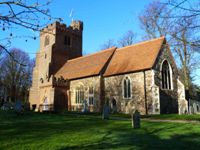 Incumbent:
Revd Terry Brown
Tel: 01245 698988

Churchwardens:
Judy Cecil
Tel: 01245 224747
Michael Puffett
Tel: 01245 222066



Safeguarding Details:

We are committed to Safeguarding Children, Young People, Victims/Perpetrators of Domestic Abuse and Vulnerable Adults.

The PCC has adopted the Church of England's policies and best practice on safeguarding which may be found on the

Church of England's website

.

This link

has the detail of Sandon's arrangements.

Our Parish Safeguarding Officer is Alison Read, who may be contacted at church or by

email

.

The Chelmsford Diocese Safeguarding Team can be contacted at 01245 294444 or

safeguarding@chelmsford.anglican.org

.

Out of hours, please contact Social Services on 03456 061212.

In a safeguarding emergency, dial 999.


Information for Weddings, Baptisms and Funerals
Currently there are no Weddings, Baptisms or Funerals in Churches.
If you wish to enquire about a funeral at the graveside or at a crematorium please ask Revd Terry Brown or one of the churchwardens.

Diocesan Resources
Our Diocese on their website have various resources on the website. Use this link and then click on which day you want to use the material.
Services





The situation is quite fluid in the current circumstances. We are trying an arrangement alternating between Church and Zoom. Zoom details (including phone-in details) can be found on our Online Services page and services in church on our Services page.
Click here for Orders of Service, Lectionary and so on.


Prayer & Practical
If you would like us to pray for you then please contact us and we will be pleased to do so. We also want to help local people in practical ways so if you need practical help or want to ask for prayer contact Revd Terry on 01245 698988 or email.
You can download the Prayer Diary by clicking here.

Mental Health
In these trying times, it has never been more important to think about our own and other people's mental health and well-being. Click here to download the Church of England's 'Supporting Good Mental Health' booklet.